Current Earth system models poorly represent the processes controlling tropical forest carbon cycling, contributing to large uncertainties in climate projections. To address this challenge, NGEE–Tropics research focuses on state-of-the-science model development and measurements that are most critical for projecting tropical forest carbon cycling and associated energy and water fluxes.
We have developed and are continuing to improve a new hierarchical, modular modeling platform, called E3SM-FATES (Energy Exascale Earth System Model)-Functionally Assembled Terrestrial Ecosystem Simulator), that integrates crucial processes of plant demography, ecophysiology, below-ground biogeochemistry, and aquifer-to-canopy hydrology.  E3SM-FATES will enable an improved understanding of how diversity in plant functional traits govern the responses of tropical forest ecosystems to global changes, and ultimately determine tropical forest carbon, water, and energy feedbacks to the Earth system.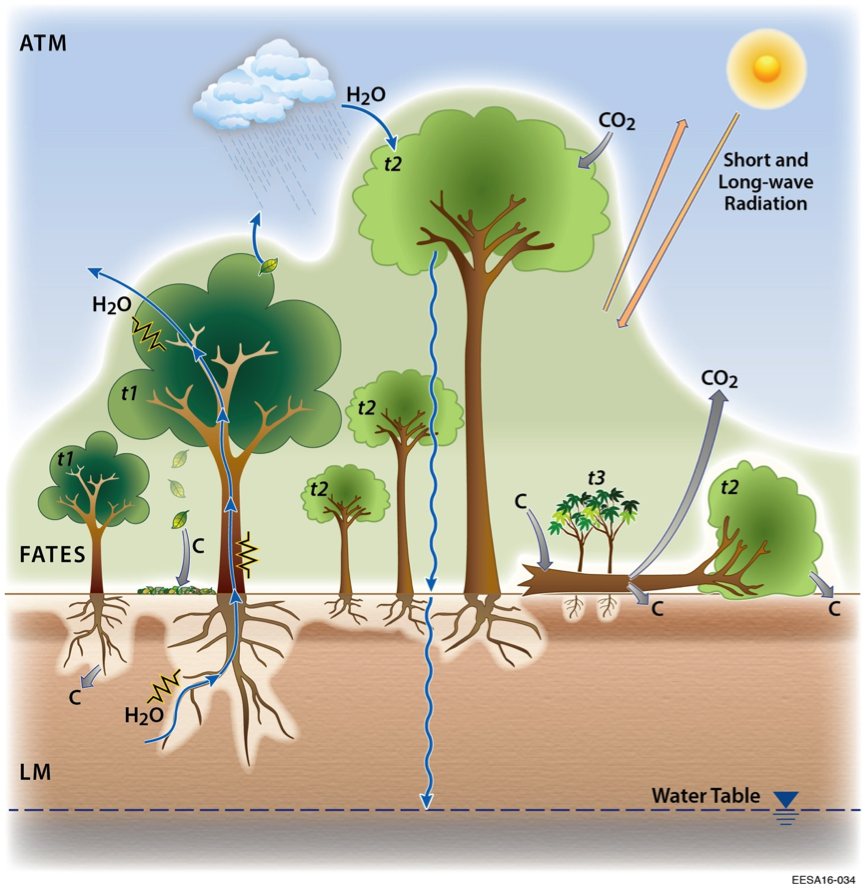 While NGEE-Tropics is focused on model development and testing for tropical forests, we are coordinating with global model advances taking place within DOE-supported projects, such as Energy Exascale Earth System Model (E3SM) and Interoperable Design of Extreme-scale Application Software (IDEAS), as well as with the National Center for Atmospheric Research (NCAR), and international collaborators.